From Wikipedia, accessed Apr 28, 2021:
The Chignecto Ship Railway is a historic Canadian portage railway located in Cumberland County, Nova Scotia.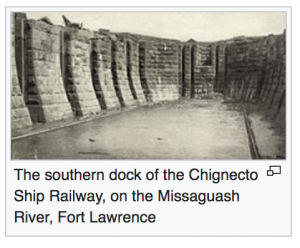 With Canadian Confederation in 1867, a variety of canal-building projects were undertaken throughout the new country by the new federal government, including renewed interest in a canal that could transit the isthmus at Chignecto. The Chignecto Ship Railway project was first proposed in 1875 by notable civil engineer Henry Ketchum as a means to transport ships across the Isthmus of Chignecto, shortening the sailing distance between the Bay of Fundy and the Gulf of St. Lawrence by avoiding the necessity of sailing 500 nmi (930 km) around Nova Scotia. A canal had been proposed for the isthmus but financing was proving difficult to secure. Ketchum submitted his proposal to the Government of Canada in 1881. In 1882 the Chignecto Marine Transport Railway Company was incorporated as a federally chartered railway. It was financed by Baring Brothers and Company, London.

…Construction began in October 1888 and by 1890 the project was three-quarters complete with 16 mi (26 km) of the rail bed finished, and 13 mi (21 km) of the track laid. A bridge and large stone arch culvert were built at Tidnish Bridge – a community which received its name due to this infrastructure. And the terminals were built including the docks, breakwaters, and lock.

In fall 1890 the primary financiers of the project, Baring Brothers & Co., faced potential insolvency due to the financing of debts in Uruguay and Argentina. This created the Panic of 1890. By August 1891 work on the ship railway ground to a halt and would never restart. Ketchum appealed to the federal government for help in finishing the project but in 1892 the Parliament of Canada refused to extend the time period for the contract with the Chignecto Marine Transport Railway Company.

Ketchum never ceased lobbying for the project but died unexpectedly on September 8, 1896, in Amherst. He was buried in Tidnish Bridge at a cemetery that overlooked the unfinished ship railway.